Services
Extensions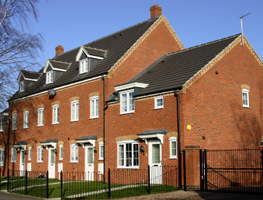 Increasing your facility through an extension requires excellent planning from the outset, not least of all because you'll want to ensure that you create the right space for your commercial needs once the extension is complete, but also to ensure the work is carried out swiftly and professionally to minimise disruption to the current running of your business.
Please, involve us from the start. We have a wealth of knowledge, experience and expertise in all areas of extension development and building. Whether it's a small, medium-size or large facility, we can plan to maximise space, optimise the functionality of the extension and recommend a wide range of materials and finishing touches for the individual, professional look and feel you want for your business.
We will manufacture, construct and install everything ourselves to ensure the highest standards of quality are maintained across the entire project, even including the decorating. All you need to do is choose the paint colour.
Fire / Flood Damage
When disaster strikes, don't worry. We can help get you back up and running quickly, efficiently and to the standard that you expect.
Fire and flooding can cause immense damage and it is important, not just for the short term but also the long term, that repairs are carried out properly and thoroughly so that the structure of your facility is robust for the future.
We can carry out all types of repairs and rebuilds, from floor to ceiling and everything in between. We will consult with you at every level to achieve the look and finish you want, be it to co-ordinate with existing facilities or something completely different. We will partner with you through the entire process, outlining and agreeing all specifications, ensuring full compliancy with health and safety, and meeting the requirements outlined by your insurance company or landlord where necessary. And we will work hard with a dedicated team to complete your project in a timely, professional manner with minimal disruption to your business.
Kitchen / Bathrooms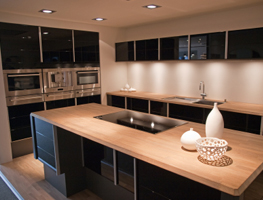 Kitchens and bathrooms rely on excellent planning to optimise space and the functionality of the facilities. We have tremendous experience and wide-ranging expertise in the design and installation of practical, yet high quality facilities, working within the constraints of space, access, utilities, privacy and health and safety. We have the know-how, skills and craftsmanship to integrate essential equipment with style and elegance, and to the highest standard of finish that will give your kitchen or bathroom individuality and a presence to be proud of.
Consistent with all projects undertaken by Rice & Son, we ask that you involve us at the earliest possible opportunity so that we can offer advice and guidance that will ensure your facility is finished just the way you want it. We can look after all aspects of your installation from day one, including all design work, build and installation, through to final decoration. No project is too small or too large for us to undertake, and your work will be undertaken by our craftsmen to deliver the highest, most consistent standards of quality for which we are renowned.
Office Refurbishment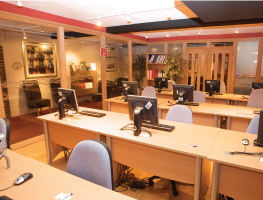 Refurbishment of an office, or any other business facility, is a great time to give your commercial surroundings a fresh look. But it's also the perfect opportunity to improve the functionality and practicality of your space.

Rice & Son can bring a wide range of ideas, suggestions and advice to the table, from the initial planning stages through to final installation, with all the management and support you need to make your project stress-free and smooth running.
We use premium materials and the highest standards of craftsmanship to provide a finish that is second to none. Our attention to detail across all aspects of the refurbishment is exemplary, from manufacturing and full installation to the decoration and final finishing touches. We work hard with individual skill, drive and sincere care and dedication to complete your project on time and to exacting standards. If it's time for a refurbishment, then it's time you talk to us.
Project Management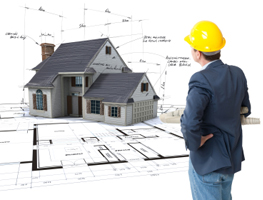 Depending on the scale of the project you need to undertake, the prospect of finding the time or having the expertise within your business to manage it may discourage you or hold you back from pressing ahead.
That's where we can help and support you. We are here to manage whatever you can't. From start to finish, we can oversee every aspect of the project that you need us to carry out, removing the stress and worry from your shoulders, thereby allowing you to focus on your business, your job and your customers.
Our experience, knowledge and expertise will ensure pitfalls are avoided and money isn't wasted through costly mistakes, oversights and errors. We will manage the planning process, procurement of materials, installation teams, and the entire complex, nitty-gritty associated with your project. And we operate in an honest and transparent manner so that you can trust us to deliver on our promises in terms of our standard of work, commencement and completion dates and the all-important budget.
Walkways / Disabled Access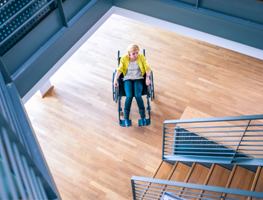 Structures around your business that facilitate staff and customers who require special needs, such as access ramps, etc. are subject to rigorous health and safety standards, in terms of the materials used, the construction, the suitability and functionality. We have considerable experience within this area having designed and created a number of installations of this nature for a variety of businesses, and are happy to share our expertise with you.
It is important that early consultation with us in undertaken so that we can design and manufacturer exactly what you need to the correct commercial specifications with pleasing, individual aesthetics. We always push the boundaries to find the perfect balance between the practical and the stylish. Our craftsmen, together with our extensive knowledge of special materials and finishes, will ensure that any installation we carry out will look as good as it performs to enhance the surroundings of your business for the benefit of staff and customers, whatever their individual needs may be.
Suspended Ceilings / Floorings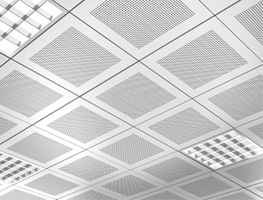 Suspended ceilings and flooring can transform the appearance of your working environment, as well as offer practical advantages such as providing greater insulation, enhancing lighting conditions and improving levels of soundproofing.
Our design skill and knowledge of materials means that we can provide high-specification, high impact solutions in any environment, co-ordinating with existing facilities and décor, or creating a new, individual look for part or all of your business surroundings. Every installation is finished to a premium level of quality and craftsmanship to guarantee it will look and perform to the highest standards for years to come.
We will ensure that any project undertaken is completed professionally and timely with beautiful results in every respect. And we can help you manage the process to ensure minimal levels of disruption to your workplace. Your project is a total commitment to us, and one that we take very seriously. Our reputation depends on your satisfaction.